beginning of content:
Reflections: 2015 Chinese Bridge Delegation Program Connects U.S. and Chinese Educators in China
If you are using assistive technology and need help accessing this document in another format, please contact us via this email address:
ssd@info.collegeboard.org
Back
Reflections: 2015 Chinese Bridge Delegation Program Connects U.S. and Chinese Educators in China
Daniel Lowmiller, Assistant Superintendent of Curriculum and Instruction at Green Local Schools
This past month, the College Board coordinated the 2015 Chinese Bridge Delegation, an event that gave 230 U.S. school and district leaders the opportunity to visit China for a one-week educational program to experience Chinese language and culture and foster understanding between U.S. and Chinese educators.
In the entry below, program participant Daniel Lowmiller, Assistant Superintendent of Curriculum and Instruction at Green Local Schools in Uniontown, Ohio, reflects on this phenomenal educational and cultural experience:
Deciding to take part in the 2015 Chinese Bridge Delegation was the right choice for me and my district.  I recently accepted a position in a new district where I play a role in the curriculum decisions.  Currently, we are evaluating the possibility of expanding our world language offerings and I thought this experience would arm me with knowledge about Chinese language and culture.  Additionally, I was eager to learn how the College Board could assist the district's implementation of additional language opportunities for students.
The moment we landed in China, we were treated with nothing but hospitality and generosity.  After spending a day in Beijing receiving an overview of the educational system, getting to know our travel companions, and adjusting to the time difference, our particular group hopped a bullet train and departed for the port city of Tianjin. 
The school visits in the province proved even more powerful than I had imagined. Staff and students alike were eager to showcase their talents, share their practices, and engage in conversation about how to continually improve instruction.  I learned that our educational systems have much more in common than differences.  I found most impressive the time and attention spent not only on academics, but also on the activities dedicated to ensuring students knew about their own customs and traditions.
In addition to touring the school campuses and interacting with educators, we also had time to experience some of China's national treasures firsthand.  We visited cultural sites and navigated through the streets, trying our hand at communicating with locals.  Of course, the trip to China wouldn't have been complete without the chance to climb The Great Wall or wander through the Forbidden City.  Our visit was the perfect balance of past, present and future.
For me, the trip was an opportunity to learn about a part of the world I have little knowledge of, yet understand its huge impact on the U.S.  It was a chance to see for myself the need for our students to understand our country's role in the larger global society.  It is essential that we have the knowledge of the other key players and have the ability to communicate and interact with one another in the future.
It is my hope to expand our district's world language offerings and add opportunities for students to engage in learning Chinese language and culture.  With the knowledge and connections made during the trip, I will begin to have conversations about the possibilities of adding to our current courses.  Additionally, I will continue to have conversations with the educators at our host schools and talk about exchange visits for students and staff alike.
For me, this trip was much more than travelling halfway around the world.  It was also an opportunity to travel inward.  I would encourage others to branch out and experience this truly incredible endeavor.  I guarantee you will come home with knowledge and ideas to implement at school and at home!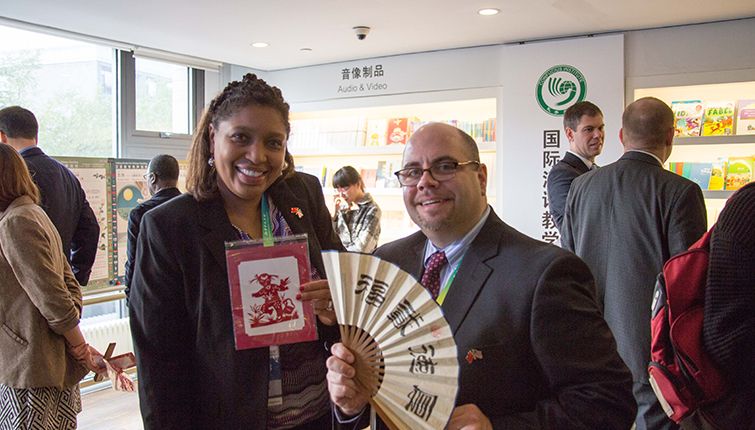 From 2006 to 2015, more than 4,000 U.S. educators have participated in the Chinese Bridge Delegation. The program provides an opportunity for delegates to learn about a country that is rapidly changing and rising on the global stage. Delegates return to their own schools and districts with increased awareness and interest in providing international ideas and opportunities to their own students.
---