beginning of content:
Better Takes Practice: College Board, Texas Coaches Team Up to Support Student Athletes
If you are using assistive technology and need help accessing this document in another format, please contact us via this email address:
ssd@info.collegeboard.org
Back
Better Takes Practice: College Board, Texas Coaches Team Up to Support Student Athletes
Michael Preston, Associate Director, Professional Communications
Not even three days in the sweltering San Antonio heat could stop the College Board from bringing cool new resources and energizing professional development sessions to this year's Texas High School Coaches Association's (THSCA) Coaching School. The College Board's presence at the annual convention—which brought together more than 13,000 high school coaches, athletic directors, and academic coordinators from across the state—marked the beginning of a new College Board initiative designed to help high school athletic coaches support their student-athletes both on and off the field.
Underlying this effort is a new partnership with THSCA, the principal advocate for Texas high school coaches in their work to help student-athletes. The organization, which boasts 25,000 members and is the largest of its kind in the country, is working with the College Board to connect students to Official SAT Practice and free college planning resources.
"THSCA and the Texas High School Coaches Education Foundation have a deep appreciation for the power of practice and understand how gradual improvement can lead to big outcomes," said Steve Bumbaugh, College Board's senior vice president for college and career access. "With Official SAT Practice, students receive a free, personalized study plan based on their own results on the PSAT/NMSQT or SAT so they can focus on the skills they need to work on most."
The organizations also launched the #PracticePaysOff challenge with Official SAT Practice on Khan Academy. A part of THSCA's Coaching Beyond the Game initiative, #PracticePaysOff invites students and their coaches to submit videos via social media to display their commitment to academic practice by using Official SAT Practice. Seventeen students and eight coaches will be eligible to win $1,000 prizes for their schools through participating and will make it easier than ever for coaches to support students preparing for the SAT and for college.
To help coaches start using Official SAT Practice with their teams, the College Board and THSCA developed new resources, including a new website—collegeboard.org/athletics—and a Coach's SAT® Playbook that includes step-by-step guidance, outreach materials designed to help engage parents, classroom "how-to" guides, and a college planning timeline that highlights important NCAA eligibility criteria and deadlines.  
Between demonstrating the power of Official SAT Practice at the College Board booth and enrolling schools' teams on the tool before the season starts, College Board staff also hosted and facilitated sessions that provided both inspirational messaging and practical advice about how coaches can use their influence to positively impact the lives of the students they work with.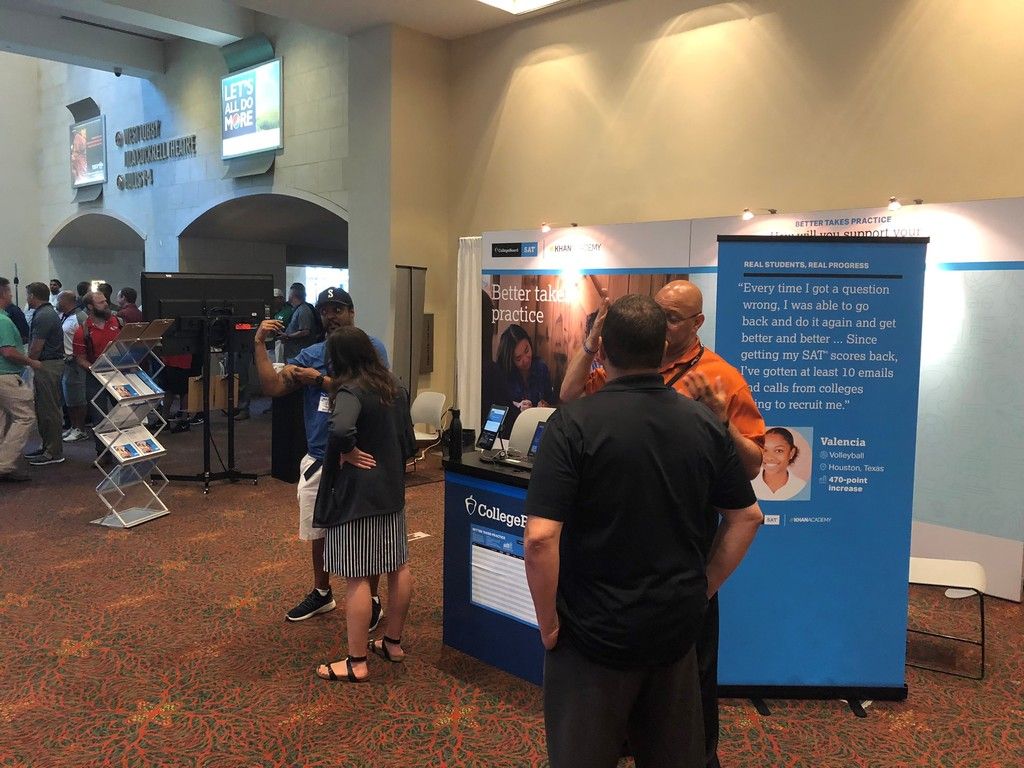 On the second day of the conference, Cincinnati Bengals defensive end and ConnectHomeUSA ambassador Michael Johnson spoke about his faith, family, football, and the power of education during a packed session. Johnson also spoke about the power of Official SAT Practice and how using it is associated with 115-point score increases after 20 hours of practice.
During a session about how coaches can use Official SAT Practice with their teams, Stephen Dixon, head football coach at Heights High School in Missouri City, stressed using every setting available to talk to students about committing to academic practice.
"Be proactive as a coach and talk about SAT Practice at your kickoff meetings for your sport," he said. "Khan Academy and Official SAT Practice are great tools. I'm a little jealous because we didn't have this when I was in school!"
Another way to help students up their practice game is by enlisting parents, said John Garcia, head football coach at Theodore Roosevelt High School in San Antonio. His school has started using a texting system with parents that lets them know about grade changes and other important academic updates.
Coach Garcia also emphasized the idea that coaches can help students understand that their coursework is just as important as their on-field performance.
"Students use tools like HUDL to showcase their athletic accomplishments," he said" We should also tell students to make a highlight reel of their SAT practice."
In another session focused on athletic directors, Glenn Terry of the NCAA Eligibility Center stressed one of the most important points for students to remember: being a talented athlete isn't enough for you to be successful in college.
"Playing college sports requires academic achievement," he said. "The talent doesn't get you the ticket. The grades get you admitted."
Find out more about the College Board's athletic initiatives at collegeboard.org/athletics.
Learn more about THSCA at thsca.com.