beginning of content:
Who's Speaking at Forum This Year?
If you are using assistive technology and need help accessing this document in another format, please contact us via this email address:
ssd@info.collegeboard.org
Back
Who's Speaking at Forum This Year?
The College Board
Don't forget to register for this year's Forum on October 26-28 in Chicago, IL.
Here are this year's plenary speakers:
Meredith Walker, Amy Poehler's Smart Girls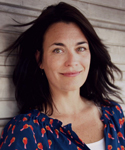 Meredith Walker is the cofounder and executive director of Amy Poehler's Smart Girls, an online community encouraging activism and self-expression for young girls and the young at heart. Founded by Walker and actor Amy Poehler, the organization is dedicated to helping young people cultivate their authentic selves.
Walker is a longtime mentor for the Ann Richards School for Young Women Leaders, serves on the ONE Girls and Women Advisory Board, and served as a delegate for the ONE and Heifer International 2015 mission to Malawi. In 2016 Walker was a guest of the White House, hosting the Champions of Change for Computer Science Education summit and serving as a panelist at Breaking Down Gender Stereotypes in Media and Toys, another White House summit. Walker and Amy Poehler were also copanelists at The United State of Women: Revolutionizing Gender Norms, another conference hosted by the White House.
Nicole Hurd, College Advising Corps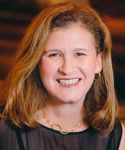 Nicole Farmer Hurd is the founder and CEO of College Advising Corps. A passionate advocate of postsecondary education, Nicole has led College Advising Corps from a pilot project in Virginia to the largest college access program in the country, placing hundreds of advisers in high-need schools from coast to coast. Under her leadership, the corps received the 2012 National Service Impact Award from the Corporation for National and Community Service for the "positive and lasting impact they are making through national service." Nicole was named to the Chronicle of Higher Education's 2014 Influence List.
Congressman Joaquin Castro, Texas 20th District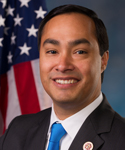 Joaquin Castro has served in the United States House of Representatives for Texas's 20th congressional district since 2013. Castro serves on the House Permanent Select Committee on Intelligence, as well as the House Foreign Affairs Committee. He was the 2013 co-president for the House freshman Democrats and serves in House Democratic Leadership as Chief Deputy Whip.
Castro created the Trailblazers College Tour, which sends underprivileged students on college visits and gives them exposure to some of the nation's best institutions of higher education. He also founded SA READS, San Antonio's largest literacy campaign and book drive. He has taught as a visiting professor of law at St. Mary's University and as an adjunct professor at Trinity University. Castro is active on several boards of education-related nonprofit organizations, including the National College Advising Corps, and the National Association of Latino Elected and Appointed Officials' (NALEO) Taskforce on Education.
Born in San Antonio, Texas, Castro is a second-generation Mexican-American and a proud product of the public school system.
Thomas L. Friedman, author and journalist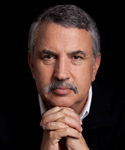 Thomas Friedman is an internationally renowned author, reporter, and columnist. He is the recipient of three Pulitzer Prizes and the author of six bestselling books: From Beirut to Jerusalem (1989); The Lexus and the Olive Tree (1999); Longitudes and Attitudes: Exploring the World After September 11(2002); The World is Flat: A Brief History of the Twenty-first Century (2005);Hot, Flat, and Crowded (2008); and That Used to Be Us: How American Fell Behind in the World We Invented and How We Can Come Back (2011).
Friedman's latest book, Thank you For Being Late: An Optimist's Guide to Thriving in the Age of Accelerations, will be published by Farrar, Straus and Giroux on November 22, 2016.
Born in Minneapolis, Friedman received a B.A. degree in Mediterranean studies from Brandeis University in 1975. In 1978 he received a master's in modern Middle East studies from Oxford.
Check back on All Access later this fall for highlights and helpful tips from the conference.